Distilleries In London That Are Open Right Now
27/07/2020
These distilleries in London are open for visitors in a COVID-secure way.
Effective from June, bars are allowed to re-open, which means brewery taprooms can pour beers again, regardless of whether they serve food. However, beer fans should expect a few post-pandemic changes to taproom culture. For example, limited capacity may make reservations necessary to spend time drinking at your favorite brewery, and the beer may be served in disposable cups rather than glassware. Arguably the biggest shift is the absence of sample sizes and beer-tasting flights.
Angel's Envy
Angel's Envy began as an idea shared between a father and a son in 2006. On July 9th in 2013, three generations of Hendersons came together to break ground on the new distillery.You'll see first-hand their complete distillation process from beginning to bottle, followed by a tasting in the stunning Finishing Room.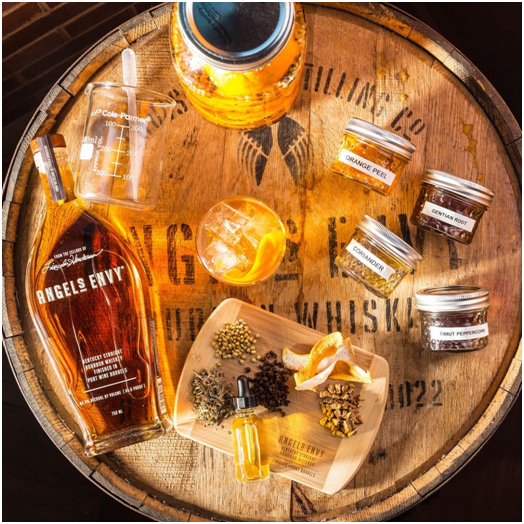 Image: Angel's Envy
Opens Mon-Wed: 12:00 to 4:00 PM, Thurs-Sat: 12:00 to 6:00 PM, and Sun: 1:00 to 4:00 PM
Bardstown Bourbon Company
Bardstown Bourbon is the first Napa-Valley-style destination on the Kentucky Bourbon Trail to offer a full-service culinary experience at our Bottle & Bond Kitchen and Bar. Here, The visitors enjoy comfort food, exceptional salads and farm fresh meats and cheeses.The bar offers a craft cocktail program, a one-of-a-kind whiskey and vintage spirits library, a curated wine collection, and a selection of local draft beers, all providing the perfect foundation for a memorable afternoon or evening.
---
Some of the best vodka brands to have in your bar.
---
Bulleit Distilling Co.
Built in 2017 and open to visitors in 2019, Bulleit Distilling Co. leads the industry with its state-of-the-art technology and offers a portfolio distilled and aged in the Bulleit family tradition, using a distinctive high rye recipe, which gives them a bold, spicy taste. Experience the sights, sounds, smells, and tastes of the Bulleit portfolio through their interactive tasting experience.
Opens Friday & Saturday: 10:30-5pm Sunday: 12:30pm-4pm
Evan Williams Bourbon Experience
The Evan Williams Bourbon Experience is a multi-million dollar artisanal distillery, immersive tourism experience, and retail location that celebrates the legacy of Evan Williams, Kentucky's first commercial distiller and namesake of Heaven Hill's flagship Bourbon brand. It is located along downtown Louisville's historic "Whiskey Row" and across the street from the riverfront location where Evan Williams' distillery once stood in the late 18th century.
Four Roses Bourbon
One trip to this historic distillery on the scenic Salt River in Lawrenceburg, Four Roses Bourbon is a unique single-story rack Warehouse and Bottling Facility nestled in the quiet Kentucky countryside in Cox's Creek.
Opens from Wednesday through Saturday, from 9 a.m. to 4 p.m., and Sunday from noon to 4 p.m.
---
5 Places in London with the Cheapest Cocktails
---
Heaven Hill Distillery
As founders of Heaven Hill Distillery, the Shapira family has been at the helm of the largest independent, family-owned and operated distillery in America since 1935. Enjoy interactive exhibits, a working rickhouse and stand inside the world's largest Bourbon barrel as you taste three nationally-acclaimed American Whiskeys, each from a different mash bill.
Jim Beam
Experience the legacy of Kentucky's "first family" of Bourbon as you discover how seven generations have ignited an international phenomenon that's now the world's No. 1 Bourbon. Visit Jim Beam's birthplace -the American Stillhouse in Clermont to experience one of the several hands-on tours. Experience a tasting or tableside cocktail class at the Urban Stillhouse – located on 4th St. Live in Louisville. Come see for yourself. You'll come as a friend, and leave as family.
Lux Row Distillers
Lux Row Distillers is a must-see in the Bourbon Capital of the World in Bardstown. Sample the full range of whiskeys for a unique and delicious experience. There's Rebel Yell, a definitely smooth wheated bourbon rich with caramel and vanilla; Ezra Brooks, charcoal-filtered for exceptional purity, with hints of chocolate and cinnamon and many more varieties to give it a chance once.
Maker's Mark
Generations of the Samuels family distillers have carried forth a recipe from prohibition to become one of the most beloved Bourbon brands in the world. The red wax on the bottles is every bit as recognizable as the Maker's Mark name. Every bottle is still hand-dipped today, and when you visit the distillery, you can dip your own.
Michter's Fort Nelson Distillery
In 2019 Michter's Fort Nelson Distillery opened its doors after almost 7 years of renovation. An architectural gem in the heart of downtown Louisville, Michter's Fort Nelson Distillery is down the block from the Frazier History museum, which has been designated the official welcome center to the Kentucky Bourbon Trail, and across the street from Louisville Slugger Museum & Factory.