Deadline
September 30, 2023
Enter Now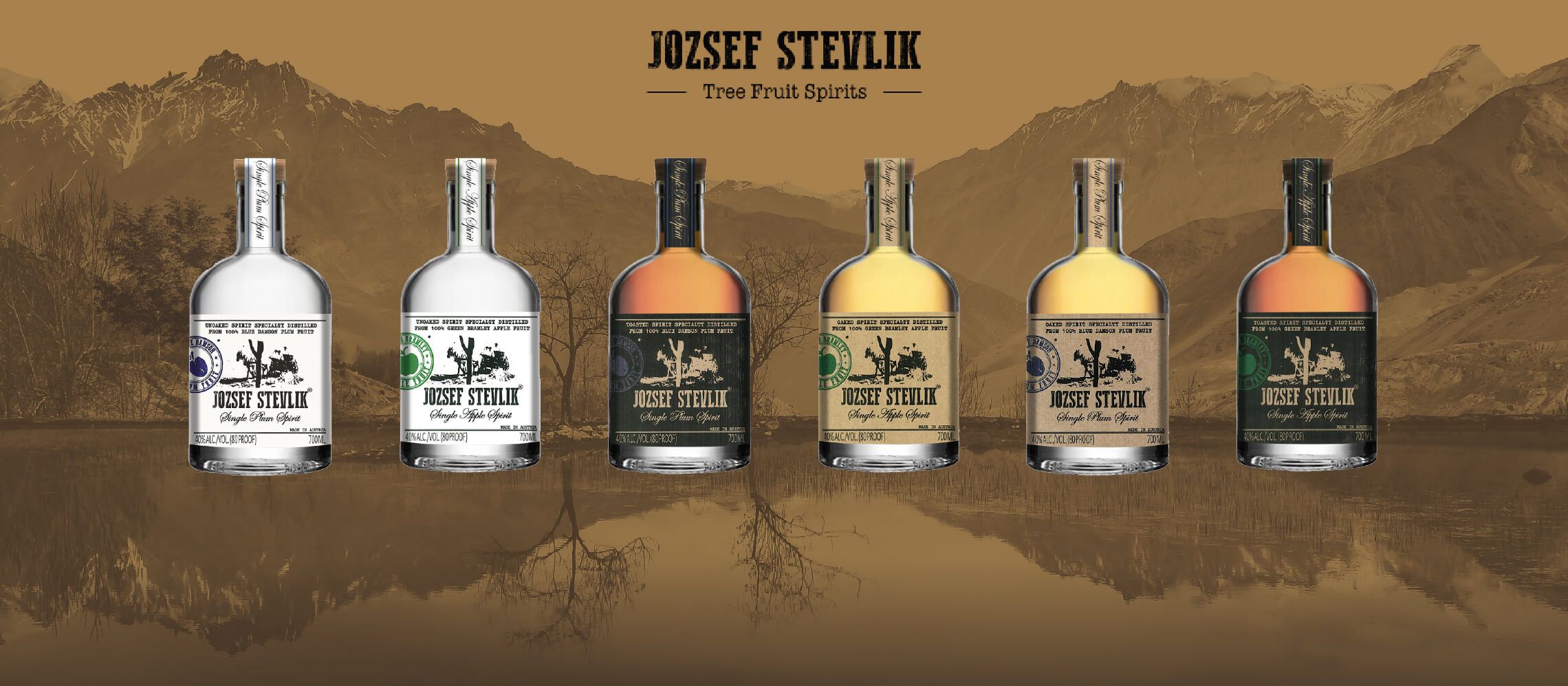 Austro-hungarian Jozsef Stevlik Wins 6x Silver Medals at London Spirits Competition 2021
The London Spirits Competition's Judging Criteria Works From A Consumer Perspective Based On Quality, Value For Money And Packaging.
JOZSEF STEVLIK wins 6x Silver Medals at the 4th London Spirits Competition, which took place in London on March 17, 2021. The medal is an ultimate endorsement in the global spirits industry. JOZSEF STEVLIK scored highly in the three judging aspects of quality, value, and packaging.
The London Spirits Competition stands apart from other spirits competitions by awarding spirits for their drinkability. Where other competitions focus solely on technical competence and distilling prowess, the London Spirits Competitions goes further to evaluate a spirit for its all-around excellence -in the way it tastes, looks, and the value it provides.
They believe that this golden triangle makes spirit drinkers more likely to buy and drink the spirit either from a retail store or at a bar or restaurant and want to laud this. CEO Sid Patel of event organizer Beverage Trade Network mentions that "Spirits brands consumers are looking for an-round experience when drinking a spirit. The spirit needs to hit all the right notes to be enjoyed again and again.
So at the London Spirits Competition, we evaluate spirits that contribute to a spirit's overall drinkability. Along with the quality, spirits are assessed for their appearance and value. "The judging panel of 2021 was drawn from leading spirits industry professionals with direct commercial buying responsibility.
This establishes the winners at the competition to be agreeable to the on-premise trade and consumer alike. Spirits were judged on the basis of three primary criteria –quality, value, and packaging–and then scored on a 100-point scale. Spirits that scored 90+ points were awarded Gold medals, while spirits that scored 76 to 89 points were awarded Silver medals, whilst Bronze medals were awarded to spirits that score between 65 & 75. "The extremely qualified judges, the chance to compete with thousands of excellent spirits from around the world, and the stringent judging criteria of quality, value, and packaging make an award from the London Spirits Competition a coveted one. "We are pleased that our Single Fruit Spirit JOZSEF STEVLIK performed so well at the competition," said Dusan Stevlik, Founder and Managing Director at ESHEL Handelsgesellschaft m.b.H. a Kosher Spirits Trading Company based in Vienna, Austria, Europe. "This Silver medals demonstrates that the spirits we are making are the kind that bar managers and mixologists want to stock and spirits drinkers enjoy drinking."
Winners by the JOZSEF STEVLIK in the London Spirits Competition
1. Jozsef Stevlik (Unoaked Single Plum Spirit)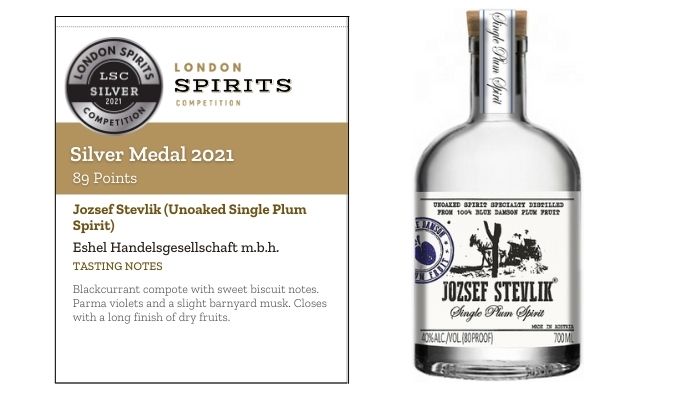 2. Jozsef Stevlik (Unoaked Single Apple Spirit)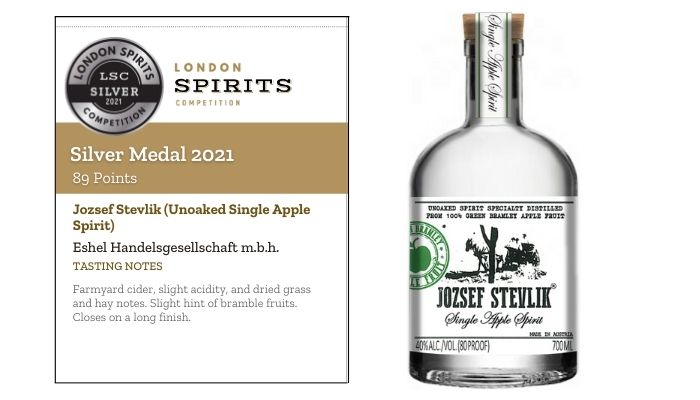 3. Jozsef Stevlik (Toasted Single Plum Spirit)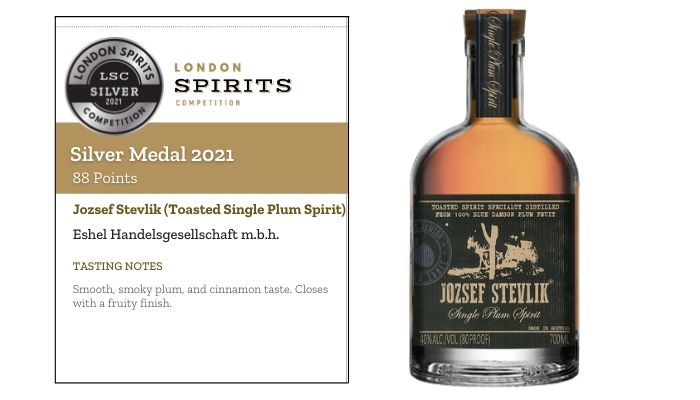 4. Jozsef Stevlik (Oaked Single Apple Spirit)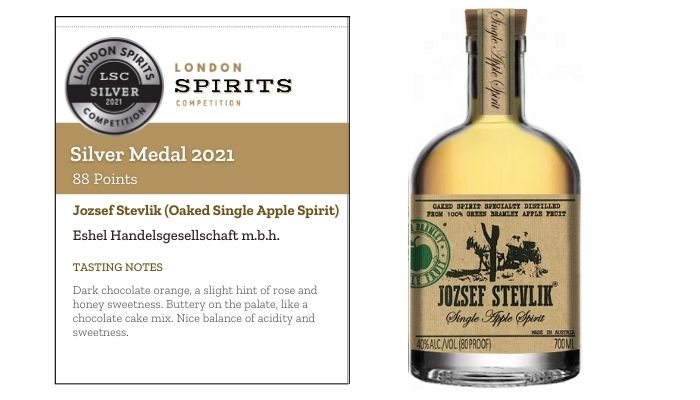 5. Jozsef Stevlik (Oaked Single Plum Spirit)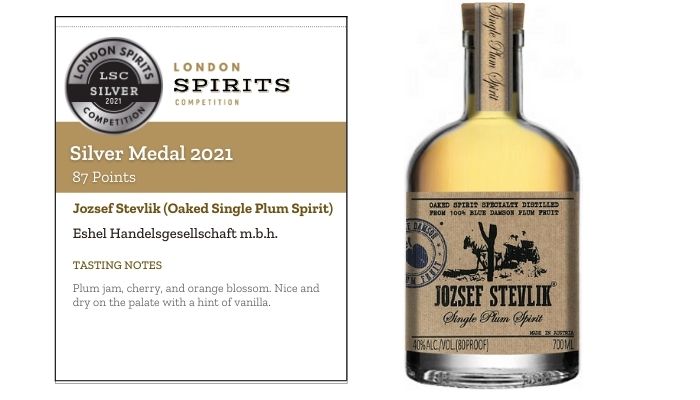 6. Jozsef Stevlik (Toasted Single Apple Spirit)