2023 Registration
London,uk
March 22, 23 & 24
Closed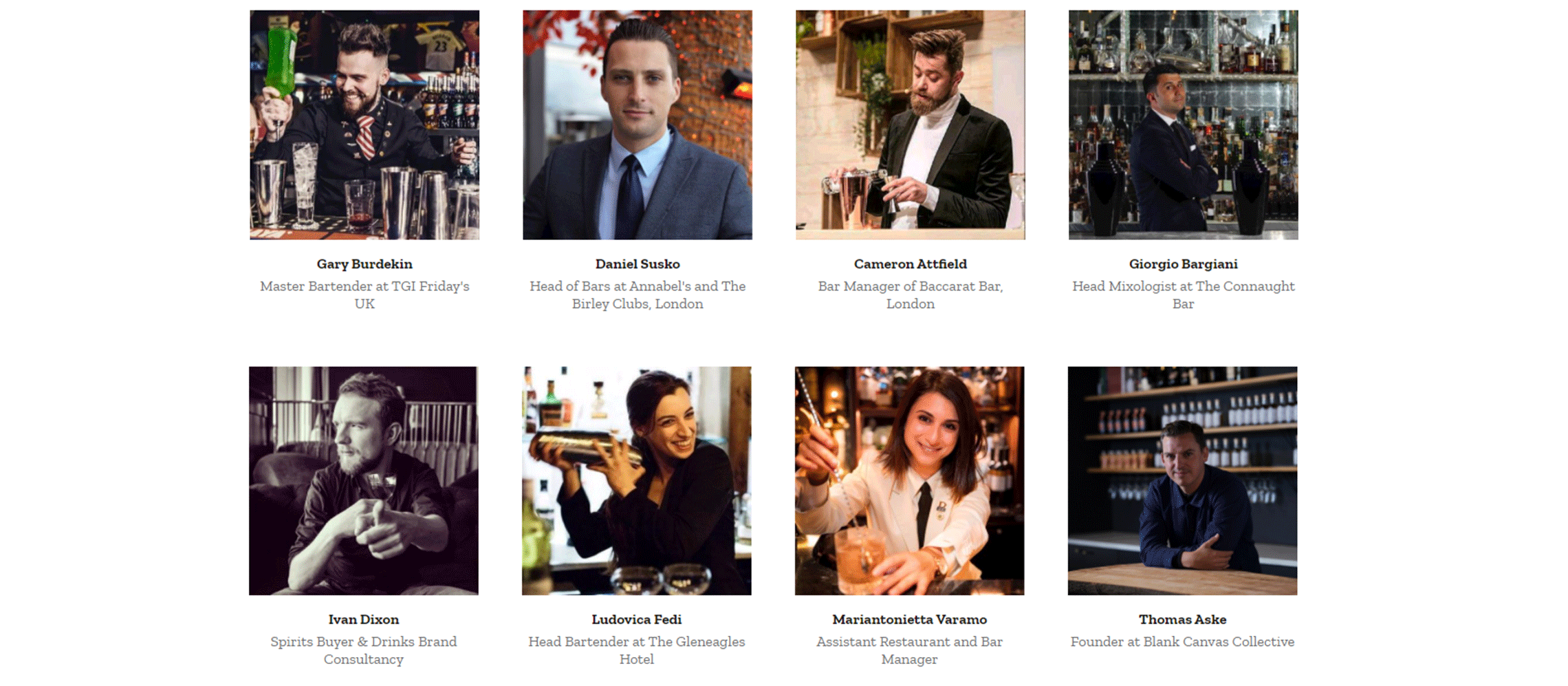 Top Spirits Trade Buyers To Judge The 2021 London Spirits Competition
Best bar talent in the world will judge the 2021 London Spirits Competition where spirits will be judged by their quality, value and packaging.
The Ritz, The Stafford, The Connaught Bar, Gleneagles, Roka, 45 Park Lane and Dukes Hotel are just some of the prestigious names represented on the judging panel for the 2021 London Spirits Competition. For any distiller, brand owner, producer or importer the competition is an opportunity to have your products assessed by the top premium on-trade spirits buyers in the country.
The lineup of judges for the 2021 London Spirits Competition is a roll call of some of the best bar talents in the UK.
Best bar talent in the world will judge the 2021 London Spirits Competition where spirits will be judged by their quality, value and packaging - exactly how these trade buyers buy for their business and how the consumers buy from them.
These judges are active trade buyers and evaluate hundreds of new brands on a weekly basis and monthly basis.
It is also not just their knowledge about individual spirits categories, for example, but how you can work together and combine different spirits and ingredients to create unique drinks – time and time again.
That is what makes the line up of the judges for the 2021 London Spirits Competition so exciting. Here is a collection of names that would not be out of place if they were competing in one of the world's most competitive bartender competitions.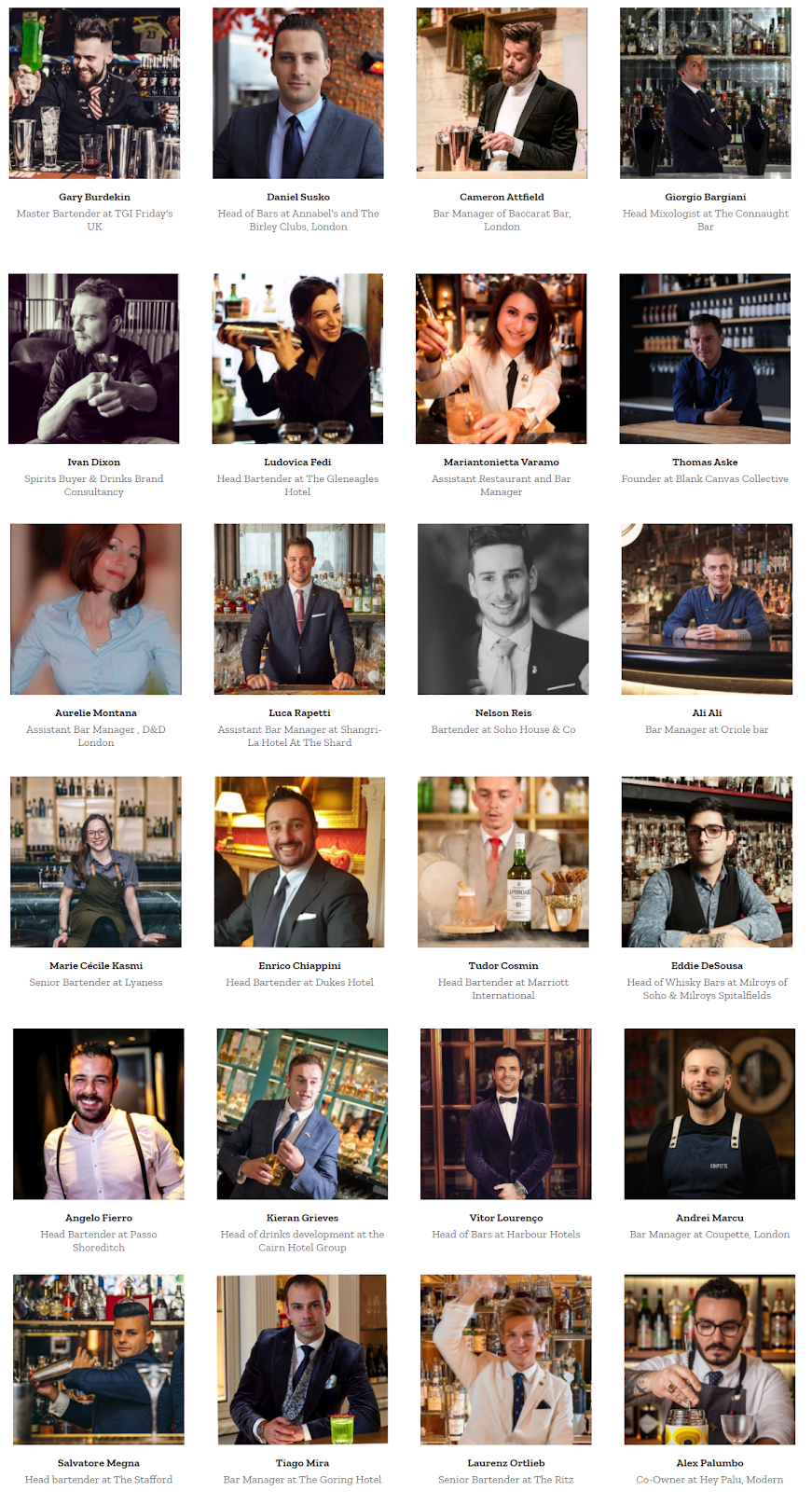 2021 London Spirits Competition Judges, Source: Linkedin
Gary Burdekin - Master Bartender at TGI Friday's UK
Daniel Susko - Head of Bars at Annabel's and The Birley Clubs, London
Cameron Attfield - Bar Manager of Baccarat Bar, London
Giorgio Bargiani - Head Mixologist at The Connaught Bar
Ivan Dixon - Spirits Buyer & Drinks Brand Consultancy
Ludovica Fedi - Head Bartender at The Gleneagles Hotel
Mariantonietta Varamo - Assistant Restaurant and Bar Manager
Thomas Aske - Founder at Blank Canvas Collective
Aurelie Montana - Assistant Bar Manager , D&D London
Luca Rapetti - Assistant Bar Manager at Shangri-La Hotel At The Shard
Nelson Reis - Bartender at Soho House & Co
Ali Ali - Bar Manager at Oriole bar
Erion Bardhoci - Senior Mixologist
Georgia Billing - General Manager at City of London Distillery & Bar
Davide Capirola - Bar Manager at Roka Canary Wharf, London
Andrea Carella -Senior Bartender at 45 Park Lane
Marie Cécile Kasmi -Senior Bartender at Lyaness
Enrico Chiappini - Head Bartender at Dukes Hotel
Tudor Cosmin - Head Bartender at Marriott International
Eddie DeSousa - Head of Whisky Bars at Milroys of Soho & Milroys Spitalfields
Angelo Fierro - Head Bartender at Passo Shoreditch
Kieran Grieves - Head of drinks development at the Cairn Hotel Group
Vitor Lourenço - Head of Bars at Harbour Hotels
Andrei Marcu - Bar Manager at Coupette, London
Salvatore Megna - Head bartender at The Stafford London
Tiago Mira - Bar Manager at The Goring Hotel
Laurenz Ortlieb - Senior Bartender at The Ritz London
Alex Palumbo - Co-Owner at Hey Palu, Modern Italian Bar
Federico Pavan - Assistant Bar Manager, The Donovan bar @The Brown's Hotel
Cristiana Pirinu - Bartender presso The Donovan Bar
Luca Ponte - Supervisor at JW Marriott Grosvenor House
Luke Ridge - Assistant General Manager at Pali Hill & Bandra Bhai
Bryan Rodriguez - Junior Wine & Spirit Buyer at Harvey Nichols
Stefano Tatti - Assistant Bar Manager and Restaurant Manager, Craft London
Cosmin Tigroso - Head Bartender
Arnaud Volte - Bartender, London Edition
Emilia Wrelton - Bar Manager at The Ivy St. Helen's Square.
The London Spirits Competition has worked in the last few years to build up the pedigree of its judges and to ensure they all have direct buying responsibilities and understand the disciplines by which certain spirits are chosen to go on a drinks' or cocktail list or not.
For it is those skills that the event is looking for in order to pick out the most commercial as well as the best quality drinks being entered into the competition.
As the competition is focused on quality, design, packaging and value for money it requires judges that have the professional experience of analysing spirits in all aspects of their commercial competitiveness.
Points are allocated in all these key areas to come up with an overall score that will determine what medal, or not, a particular spirit is given.
It means any product that is picked out for a gold medal or trophy knows it has what it takes to get itself listed in all the key places.
Judging Procedure
All spirits entered are organised into flights and then assessed in the following way:
Initially, all spirits are tasted blind to determine its quality. Where appropriate they will also be assessed by variety, style, region, and country.
Judges will then be given a briefing document setting out the spirits' price and target consumer and trade channel where it wants to be sold. Only then will judges be asked to give their score for quality based on the initial blind tasting and then additional knowledge about the spirits' price and market position.
The judges will then be handed the bottle or format for them to be able to assess, in detail, the design, label, and packaging and determine how well that matches up to, or complements the quality of the spirits and its price point.
The judges will then discuss the spirits as a whole to help allocate scores in the three judging areas.
The Gold winning spirits and all special category spirits will be re-tasted by the spirits judges on the re-judging day to ensure the scoring quality.